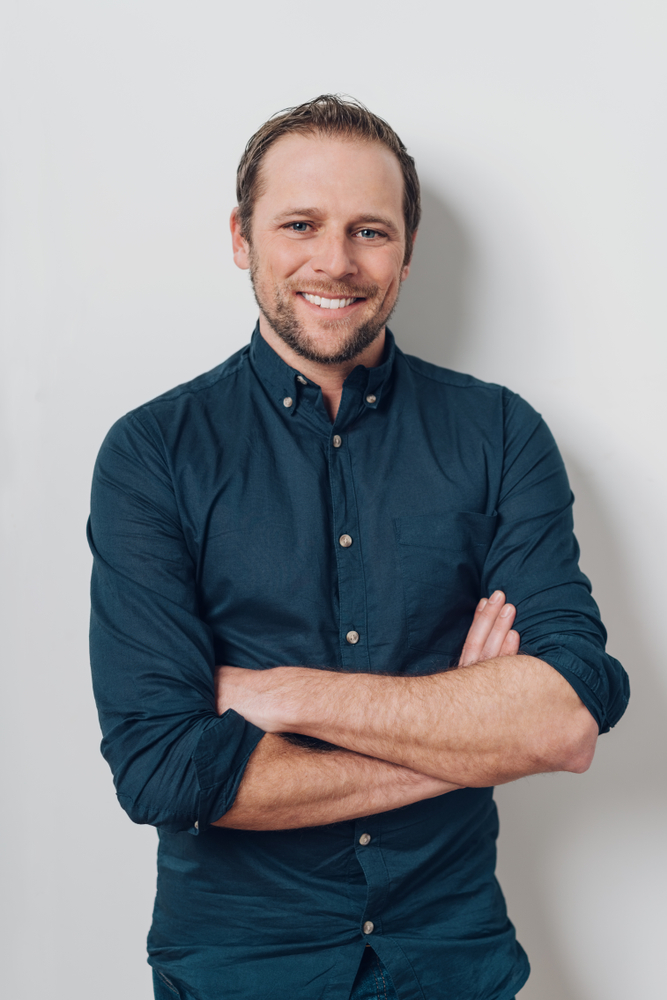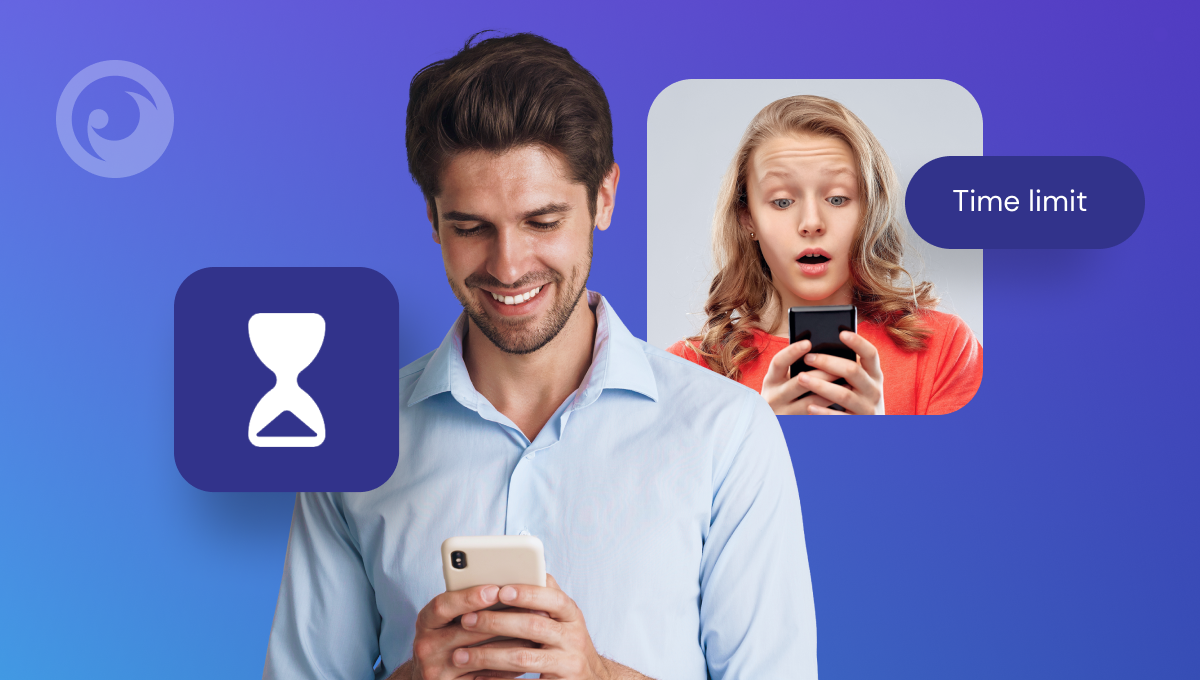 Thanks to the Internet, today's kids can find out anything in seconds. It's definitely a great advantage for their school performance, but it's also so easy to get distracted. You know, with all the fun on social media, they are more likely to spend their free time there, even when they have other important things to do.
And all that free time can be scary, especially with all the online predators that plague the Internet. Screen time control apps are the best way to safeguard your children. In this article, we've selected the top 5 apps to limit screen time, so keep reading.
Table Of Contents
Screen Time Control Tips for Parents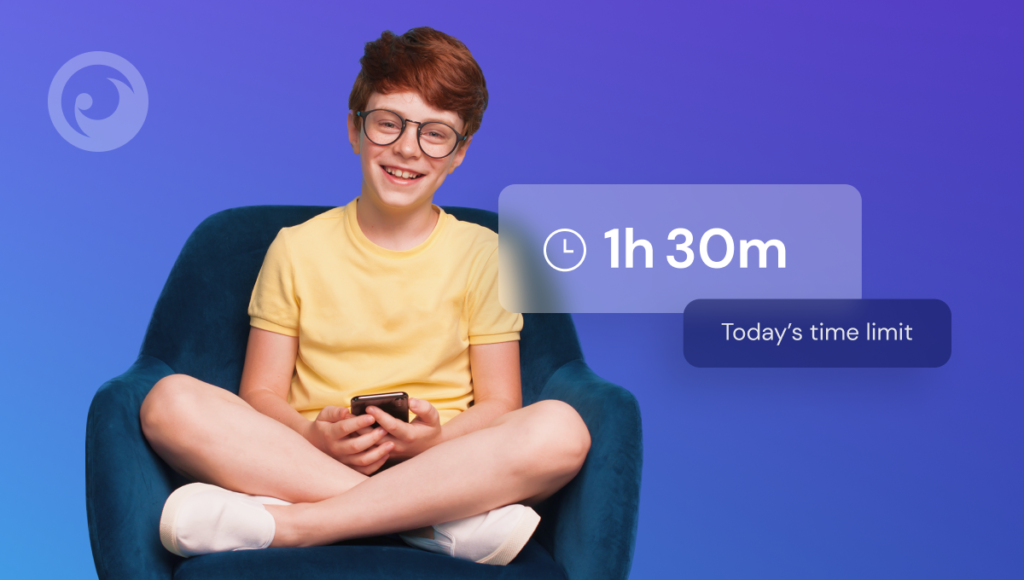 Before moving to the list of the best screen time apps, we'd like to give you some tips on how to reduce children's screen time:
If you want to limit your kids' screen time, but you're always scrolling through your own phone, don't expect them to follow your rules. Be a role model and teach them healthy behavior with devices.
Have a decent conversation
Conversation is always the key to a warm and trusting relationship. So just sit down and have a proper chat with your kid. Find out what they like about screen time most and explain why spending too much time online isn't healthy for them.
Set phone-free zones at home
The kitchen, where you have family meals or the backyard, where you can have outdoor activities, can be a perfect place to create phone-free zones. This would help you to have much more qualitative time together.
If none of the previous tips don't help, you can entrust this task to the screen time control apps. This is the easiest way to make your kids' lifestyle safer and healthier.
Top 5 Apps to Control Screen Time in 2023
1. Eyezy Parental Monitoring App to Limit Screen Time
Eyezy is considered the best monitoring app for parental control for a good reason. Not only can you see their call logs, location and multimedia files, but you can also check what websites and apps they use most.
You can also block those apps that you think have a bad influence on your kids. With an increase in cyberbullying, sexting and online scams, screen time control apps like Eyezy might come in handy.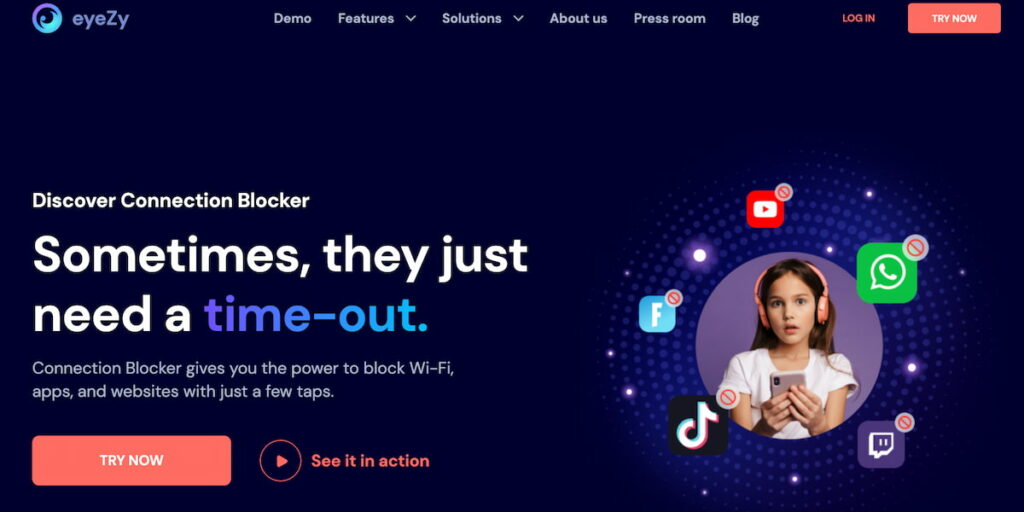 Pros:
Cons:
Might need rooting or jailbreaking to access advanced features
Some advanced features are available with more expensive subscriptions
2. Qustodio Screen Time App for iPhone and Android
With Qustodio, parents can track their kids' calls and SMS and get a complete online activity report. It also allows them to monitor their phone activity, including timeline, browsing history and screen time.
And we've come to the best part — the time limit feature. Just set up time limits and screen-free periods for kids to avoid screen addiction.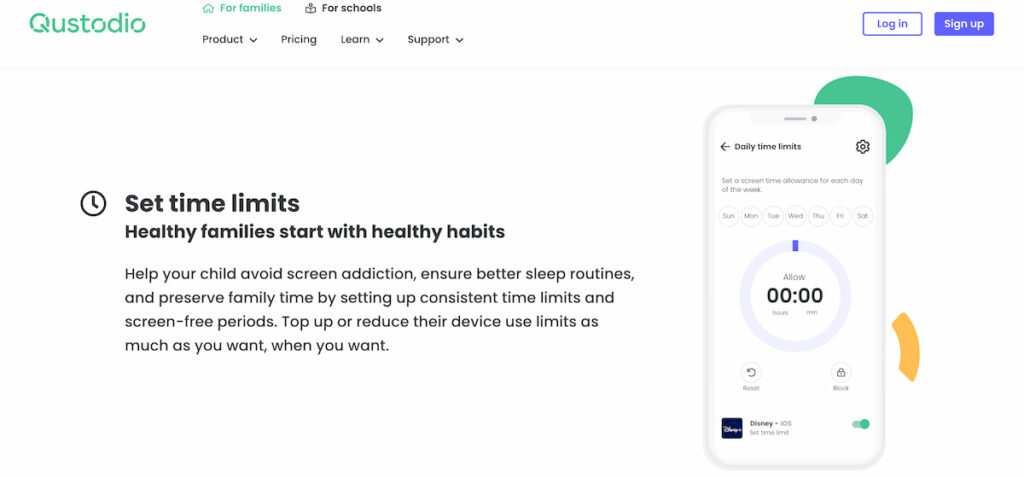 Pros:
Intuitive and easy-to-use dashboard
Screen time control feature
Available on computers, tablets and mobile phones
Cons:
Some apps like WhatsApp can't be blocked
Advanced features are available in premium plans only
3. FamiSafe Screen Time Control
Searching for an app to limit iPad use? FamiSafe is a monitoring app that can do so much more. Set safe zones and get alerts as soon as your kids cross them. Or see everything they're texting about on social media through your dashboards.
And if you're worried that they're spending too much screen time, simply block any app or game that's distracting them. This is how you make sure your children's full attention is on school performance.
Pros:
Provides screen time control and app block features
Compatible with computers, tablets and mobile phones
Easy to install
Cons:
Some features come with the premium plans only
Can be pretty expensive if used on multiple devices
4. Apple's Screen Time Control
Are your kids iPhone users? Apple has everything covered. Its built-in screen time feature makes it even easier for you to protect your kids from phone addiction.
With Apple's screen time feature, you can get a full report on your kids' phone activity. You'll know exactly how much time they spend on social media or in their web browser. Finally, you can set app limits and screen-free periods.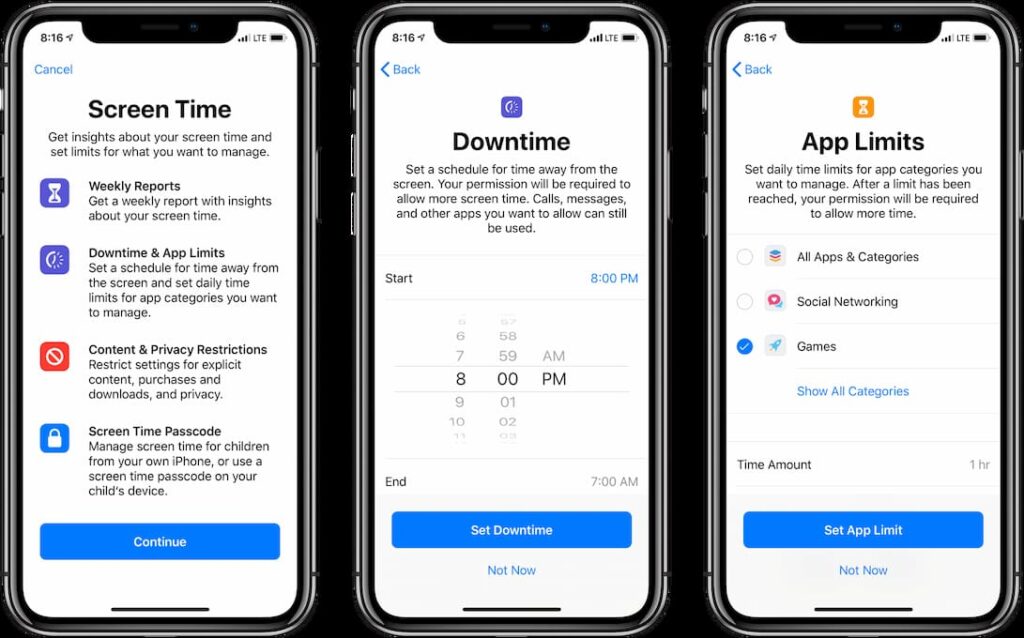 Pros:
No need to install any app
It's free and easy-to-use
Cons:
Available only on iOS 12 or later versions
No location tracking feature
5. Family Link Screen Time Tracker
Google's Family Links was mainly developed for Android devices, but it also works on iOS 11 and higher versions. With Family Links, you can fully block your child's device at bedtime. You can also set the amount of screen time allowed for your child using the "Daily Limit" feature.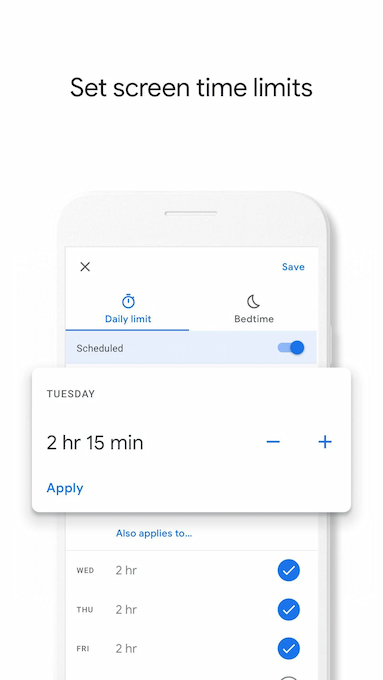 Pros:
Screen time tracker is available for free
Allows you to hide some apps
Cons: 
Kids over 13 can manage their Google accounts on their own
It won't protect your kid from seeing inappropriate content
And the Best Screen Time App Is
Now you know at least 5 screen time control apps. Yes, each of them has its advantages and disadvantages. But when it comes to your child's safety, you want to make sure you pick the best app.
Eyezy is the one, and here's why. Along with screen time control, you'll get messages, location, and social media tracking. And it's not even the whole list of Eyezy's amazing features. Just check it out for yourself.