Calling all people who love information:

This is for you.
Call Monitoring
When their phone rings, you won't have to worry about who they're talking to. With Eyezy, you'll know.
Screen Recorder
Get a clear picture of everything they're doing. Literally. With Eyezy, you can review screenshots of their activity.
Not all chats happen by text. Phone Analyzer gives you a
clearer picture.
It turns out people still love making and receiving calls, especially if they have something to hide that they don't want written in text or on social media.
That's where Phone Analyzer comes in. By giving you an overview of the phone calls placed and received, complete with call durations, number details, and timestamps, you'll be able to gain insight into the people in their lives and what kinds of relationships they might have with them.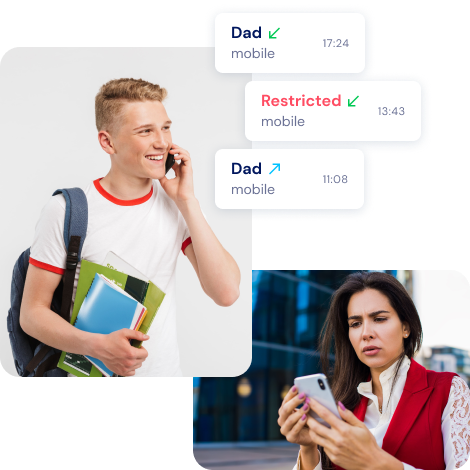 Just sign in to your Eyezy Control Panel and you'll see all the information you need, right before your eyes.
Try now
There's no phone call monitoring app that's as powerful as Eyezy. Period.
Phone Analyzer makes it easy to stay on top of their voice chats. But it's just one small part of what makes our parental control app so powerful. Baked right into Eyezy is a full suite of innovative tools, including Keystroke Capture to show you everything they type and tap, Social Spotlight to let you see what they're saying on social media, Magic Alerts to let you know where they are as soon as they get there, and so much more.
See everything, everywhere:
Just log in from any browser. Easy as that.
Get started