See it all

with screen recorder

Never miss a moment with the tool that captures everything, including secret convos.
try eyezy
A world of safety.
All at your fingertips.
Eyezy is packed with everything you need to find out what's going on in their world, wherever and whenever it's happening.
3 easy steps to get started
Pick your membership

We've got plans for every need. Just create your account and choose the plan that's right for your family.

Install Eyezy

Our Friendly Installer will show you everything you need to do to get started. We made it easy for you. And in case you need some help, our 24/7 support is always there for you!

Dig out the info

Log in to your Eyezy Dashboard and discover the truth about those you care about the most. Dispel any doubts in your family relationships and make wise data driven decisions.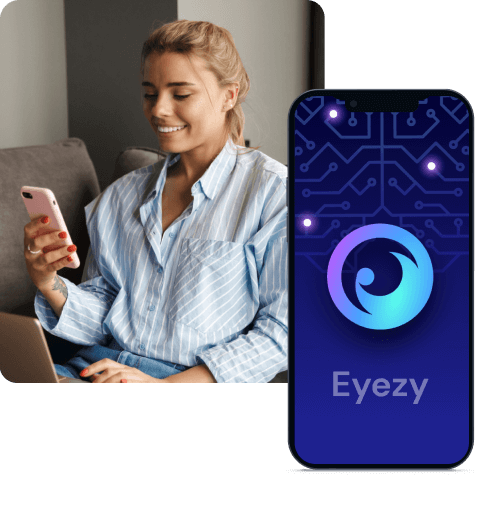 get started now
faq
What is a screen recorder?
A screen recorder is a tool designed to capture images on a device you want to monitor. Let's say you're worried that your daughter is chatting with strangers she met on social media apps you don't approve of. With a secret screen recorder Android app installed on their device, you'll be able to see screenshots of their activity and piece together exactly what's going on in their world.
What will a screen recorder show me?
If you want to see it, a screen recorder can show it. The best screen recorder for Android will show you what's happening on WhatsApp, Snapchat, Facebook Messenger, Instagram, Telegram, Skype, and more — all in a visual way so you don't have to scroll through messages. Just log in to your screen recorder app and you can see snapshots of their conversations. It really is that simple.
Why do I need a screen recorder if I can also see their social media chats?
If you're investing in the best screen recorder Android has to offer, there's a good chance it also includes other features, like social media monitoring. With that feature, when you log into your Control Panel, you'll have access to their social media chats on all the popular networks, like Facebook Messenger. But if you want to visually see everything that's happening on screen in their favorite social media apps, a screen recorder comes in handy. What's more, if you're choosing an app that doesn't offer social media monitoring, you might need a screen recorder instead.
What's a no root screen recorder Android app?
We get it. You want to use an undetectable screen recorder to see what they're up to. But you're not a software engineer, so you don't want to have to go to great lengths to see what's happening in their world. With a spy screen recorder that doesn't require rooting, you don't have to root your phone (which is a lot like jailbreaking) to get the invisible screen recorder up and running.
Is a screen recorder for Android undetectable?
That entirely depends on what kind of screen recorder you choose. Some screen recorders may include an app that lives on the phone you're trying to monitor. If that's the case, it's easy for them to find out that you're using a remote screen recorder Android app. That's why we recommend investing in an invisible screen recorder. It'll take shots of their device while you use it, magically send it to your spy screen recorder account, and let you see what they've been up to — all without anyone knowing that you're monitoring them.
How do I screen record someone else's phone?
If you invest in a secret screen recorder app, it's easy to record someone else's phone. Simply install the app on their device, log in to your Control Panel, and view screenshots of their phone. It really is as easy as that. But remember, before you pay for an Android screen recorder (or one for iOS), make sure it works with your device, and make sure that the package you're purchasing actually includes a screen recorder. Some phone monitoring apps offer multiple subscription models, with only the top tier including a screen recorder.
What's the best screen recorder for Android?
In our opinion, it has to be Eyezy. And while we may sound like we're tooting our own horn, once you see what Eyezy can do, you'll agree. Because with Eyezy, you don't just get a screen recorder. You get an app that helps you make smarter parental decisions and rest a little easier. It's all thanks to the many tools included within the app, including Social Spotlight for social media monitoring, Pinpoint to find out where they are, Plans Breaker to stay on top of their social world, Files Finder to see exactly what's on their phone, Web Magnifier to discover what they're up to on the internet, Magic Alerts to help you know when they're in danger, and so much more.
Are screen recorders legal?
For the most part, you can use a screen recorder if you're monitoring your own child (under 18) without letting them know. You can also use a screen recorder with anyone over 18 as long as you get explicit permission from them first to do so, and that they are aware you're using the screen recorder when you're using it. Of course, because rules are always changing, you definitely should check your local laws before investing in a hidden screen Android app.
Are there any good free hidden screen recorder options?
Do a quick Google search and you'll come across free screen recorders. In many cases, these are simply apps that you can use to record what's happening on your device. They're often used by people who want to capture their screen and share it with friends, family, or business colleagues. For example, you might want to help Grandma understand how to log in to her online banking account and download her credit card statements. Using a screen recorder, you can walk her through the steps she needs to take to make that happen. Or perhaps you're demoing a new app for your business. A screen recorder could help you create a tutorial. While these screen recorders are useful, we're guessing they aren't at all what you're searching for. So, do your research and make sure the app that claims to be the best screen recorder for Android is actually designed to help you monitor their online activity.
Isn't there a built-in screen recorder on Android?
On some phones, yes. But remember, these screen recorders are simply there to help you record your own screen and share it with friends. They aren't designed to monitor someone else's phone.
See everything, everywhere:
Just log in from any browser. Easy as that.
Get started