A hidden call recorder can
uncover the truth
Find out what they're saying over the phone and rest easy knowing they're safe.
try eyezy
A world of safety.
All at your fingertips.
Eyezy is packed with everything you need to find out what's going on in their world, wherever and whenever it's happening.
3 easy steps to get started
Pick your membership

We've got plans for every need. Just create your account and choose the plan that's right for your family.

Install Eyezy

Our Friendly Installer will show you everything you need to do to get started. We made it easy for you. And in case you need some help, our 24/7 support is always there for you!

Dig out the info

Log in to your Eyezy Dashboard and discover the truth about those you care about the most. Dispel any doubts in your family relationships and make wise data driven decisions.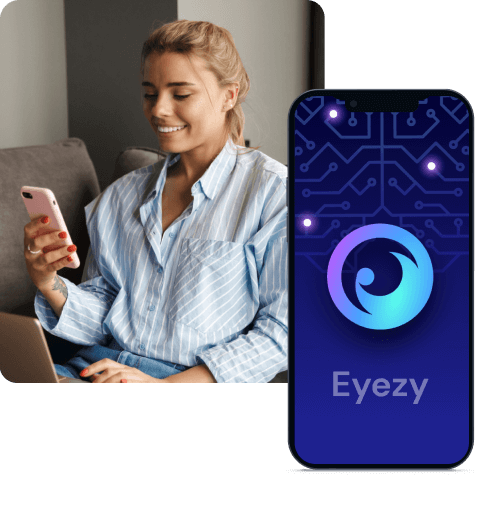 get started now
faq
What's the best hidden call recorder for Android and iPhone?
If you're looking to record phone calls secretly, you have some choices. At Eyezy, we like to think our solution is the best one. It lets you see who they called, when they called them, the duration of each call, and so much more. It helps you understand who your kids are chatting with over the phone, so you can be more involved in their digital lives. And with all the other features included like the ability to see their written communications (like texts and social media chats), Eyezy is arguable to most full-featured secret call recorder apps on the market.
How do I record cell phone calls secretly?
If you want to know how to listen to other cell phone conversations, you should start right here. This is your definitive guide to finding the best cell recorder app. While you might be tempted to record someone's phone call, remember that there are laws you need to be aware of. Because the laws vary from one country to the next, don't take our word for it (or advice from other people using a hidden call recorder). That's true even if you're looking to record phone calls secretly that your kids are having.
How do I listen to other people's cell phone calls?
If you've established that it's perfectly legal in your jurisdiction to use a hidden call recorder and listen in on your child's conversations, then you need to install an app that lets you do just that. Whatever you choose, be sure to pick one that is made by a reputable company, and one that doesn't make too many unrealistic promises. One the app is installed on their device, it's easy to take advantage of the secret call recorder and all its functionality. Just log in to your Control Panel and you're good to go.
How do I listen in on conversations remotely?
Great question. There are all kinds of hidden call recorder apps out there that claim to let you listen to cell phone calls remotely. Whatever you choose, make sure it also includes functionality that lets you review who they called, when they called them, and how long they spoke for. Remember, knowing all the details will help you better understand the types of conversations they're having. If they're calling the same number repeatedly, and speaking for a long time, it'll help you confirm your suspicions.
Can a secret phone call recorder also show me their texts?
Definitely. Sure, you might want to record phone calls secretly. But what about all the text messages they're sending and receiving? If you choose an app like Eyezy, you're covered. It goes beyond the best call recorder app by letting you review the text messages they send and receive. Remember, kids love to send texts. If you're only relying on a hidden call recorder, you could be missing out on important conversations they're having using their keyboard.
Will a hidden phone call recorder app let me see their social media conversations?
Yes. If you're purchasing an Android app to record phone calls secretly (or one for iPhone), you should look for a monitoring solution that also lets you keep tabs on their social media conversations. Eyezy is one of those apps. It goes beyond a typical hidden phone call recorder app by letting you listen in on the chats they're having on apps like WhatsApp, Facebook Messenger, and more. Remember, a secret call recorder is only good if they're always chatting with people over the phone. But most kids have conversations via social media apps, so a solution that supports their favorite chat apps is the way to go.
Is it legal to use a secret phone call recorder?
You need to check the laws in your country and region before using any type of hidden phone call recorder app. In some countries, you can record your own phone calls and don't have to inform the other person. That means it's legal to record a conversation without telling the other person, as long as you're taking part in the conversation. This comes in handy if you need to record your phone call for the purposes of dealing with a customer service agent who is trying to sell you something, and you want proof that they promised you something. In some countries, however, you can't record a phone call unless you tell the other party you're recording them, even if you happen to be taking part in the call. Bottom line? Never use a secret phone call recorder without checking the laws where you live first.
Are free secret call recorder apps safe?
We don't recommend them. When you choose a free hidden phone call recorder app, you won't be handing over money to the app developer. But you will be handing over your privacy, something that's worth a lot more. These free apps are usually designed to steal your personal information. We're talking things like your emails and passwords, credit card details, and more. By using a free app, you might be giving the bad guys access to your identity. And even if the people behind the app aren't looking to break any laws, they might be in the business of selling your data to third parties that don't have respect for the laws. That's why it's always important to choose a paid secret call recorder. It's the right way to go.
See everything, everywhere:
Just log in from any browser. Easy as that.
Get started