Track their texts and
keep them safe
It's now easier than ever to make sure they're texting responsibly.
try eyezy
A world of safety.
All at your fingertips.
Eyezy is packed with everything you need to find out what's going on in their world, wherever and whenever it's happening.
3 easy steps to get started
Pick your membership

We've got plans for every need. Just create your account and choose the plan that's right for your family.

Install Eyezy

Our Friendly Installer will show you everything you need to do to get started. We made it easy for you. And in case you need some help, our 24/7 support is always there for you!

Dig out the info

Log in to your Eyezy Dashboard and discover the truth about those you care about the most. Dispel any doubts in your family relationships and make wise data driven decisions.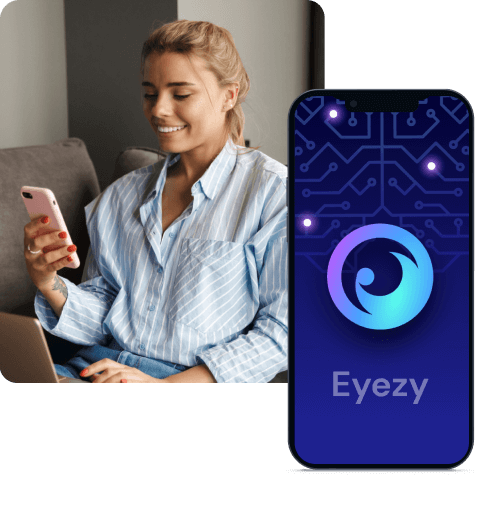 get started now
faq
What is an SMS tracker app?
An SMS tracker app, also known as a text message tracker, lets you see the text messages on another person's phone. We're not kidding. That means you can see the texts they've sent and received on their device without them finding out.
Why should I use a text tracker?
If you're worried about your family, a text messaging monitor might be right for you. This is especially true if you're worried that your kids are texting with people they shouldn't be talking to, or people you don't approve of. In the age of digital socialization, it's important for parents to stay on top of their kids. An app to see other people's text messages is a great option to help you gain some peace of mind.
How do I track text messages on someone else's phone
To read someone's text messages, you need a monitoring app. Just install it on the device where the texting is happening and you'll be able to see what they're saying in no time. As soon as everything is up and running, reviewing all the texts in their text messaging app is as easy as logging in to your private SMS tracker account.
What's the best app to read text messages on another phone?
Definitely Eyezy. Sure, you might think we're a little biased. But once you see all the powerful technology powering Eyezy, we're sure you'll agree. That's because Eyezy isn't just a text tracker. It also lets you see their social media conversations, find out their physical location, see the pics and videos stored on their device, review screenshots of their activity, and so much more.
Is there a way to track text messages remotely?
There is. Just install an SMS tracker (also called a text tracker) on the device you want to monitor and you can go from there. Once installed, reviewing their text messages is as easy as logging in to your Control Panel. That means the days of physically grabbing their phone to review their text messages are over.
How do I track someone's location by text message?
If you're looking to find out someone's location by sending them a text message, that's only possible if the person receiving the text message taps a link or writes back and gives you explicit permission to see their location. If you want to read their text messages and see their location on a map, you need a full-fledged text messaging monitor solution that includes geolocation technology. Good news, though. Eyezy does just that.
Are there free text messaging monitor solutions?
Yes, but be sure to choose a solution that you can trust. Remember, if an app claims to offer a bunch of out-of-this-world solutions for free, chances are there's a catch. It's possible that the app doesn't really do what's expected. Or it's designed to steal your personal information. Remember, you get what you pay for, so always do your research.
Can I read someone's text messages without them knowing?
Yes, as long as you get yourself a hidden text message tracker. That means you'll want an app where the app icon is removed from their phone screen. Remember, if they can see that you've installed an app to review their text messages, that kind of defeats the whole purpose.
Can I see pics and videos sent my texts?
The best SMS tracker apps will let you see not just texts, but also pictures and videos that were sent and received through their device's messaging app. Remember, not all text tracker apps are created equal, so just because one app lets you review media in text messages, it doesn't mean all apps do the same thing.
Can I read someone's deleted texts?
That depends on the text tracker you choose to install. Some text messaging monitor apps let you see every single message that was sent and received, including deleted ones. Be sure to read the full feature list and check compatibility requirements with the device you're monitoring before diving in headfirst.
How about sent and received messages?
Yes, if you want to read someone's text messages, chances are you don't just want to see the messages they've received or the messages they've sent. You want to see everything. That's why apps like Eyezy are designed to let you see it all.
How will I know when a message was sent or received?
Before you invest in just any SMS tracker app, make sure it highlights when messages were sent and received. Remember, you don't just want to know what they said. It's important to know when it was said. Knowing all the details can help you paint a clearer picture of what their communication is all about and ultimately help them stay safe.
What about free SMS trackers? Are they safe?
Unfortunately, no. If you come across a free app to see other people's text messages, you might be entering a world of danger. That's because some of these apps are designed to steal your credit card information or personal details. The worst case scenario involves you installing a text tracker that has spyware installed. The next thing you know, someone has your credit card information and is able to do unfathomable amounts of damage. And even if the app isn't designed to steal your personal information, these free apps might lead to websites that contain spyware and malware, wreaking havoc on your PC.
See everything, everywhere:
Just log in from any browser. Easy as that.
Get started