See what's happening

on Facebook Messenger

Your ticket into their conversations is right here. And you'll be surprised what you can find out.
try eyezy
A world of safety.
All at your fingertips.
Eyezy is packed with everything you need to find out what's going on in their world, wherever and whenever it's happening.
3 easy steps to get started
Pick your membership

We've got plans for every need. Just create your account and choose the plan that's right for your family.

Install Eyezy

Our Friendly Installer will show you everything you need to do to get started. We made it easy for you. And in case you need some help, our 24/7 support is always there for you!

Dig out the info

Log in to your Eyezy Dashboard and discover the truth about those you care about the most. Dispel any doubts in your family relationships and make wise data driven decisions.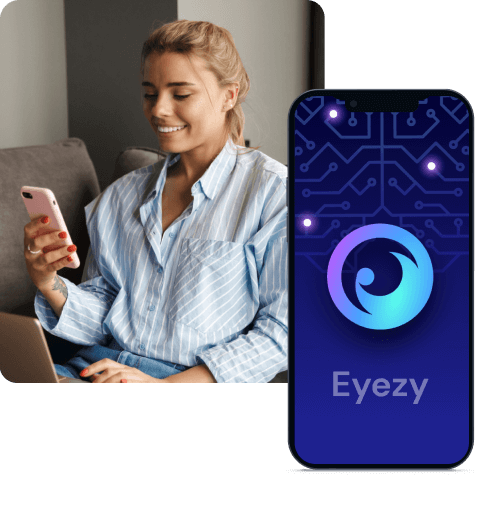 Get started now
faq
Can I really monitor my child's Facebook Messenger?
Absolutely. And you can do so even without knowing their Facebook login credentials. All you need is a Facebook Messenger monitoring app like Eyezy. With super-advanced technology, you'll know what they're talking about at any given time. And you never have to sit there and monitor in real time. Tt's easy to log in to your Control Panel and review everything.
Why would I need to see their Facebook Messenger?
If you've got kids, you never know who they're chatting with on Facebook Messenger. Remember, anyone can contact your kids on Facebook Messenger, even those they aren't friends with. Think about the random messages you've received on Facebook. As an adult, you can choose to ignore or engage. And while kids are free to do the same, many make the decision to engage because making new friends is always tempting. Unfortunately, you never know who is on the other side of the screen. It could be an adult posing as a kid, hoping to solicit something inappropriate from your child. The best thing to do is to install a Facebook monitoring app. It'll give you the peace of mind you need to make sure they're chatting safely.
Do I need a Facebook monitoring app if I know everyone on their friends list?
Absolutely. Even if you're confident that they aren't chatting with strangers, you never know if they're chatting safely and responsible with their friends. As a parent, you need to be concerned with cyberbullying. It's a very real problem and it can affect kids negatively. When you monitor Facebook messenger, you'll be able to make sure that they aren't being bullied online by their peers.
How do I view someone's Facebook Messenger?
It's easier than you think. Start by purchasing a Facebook monitoring app like Eyezy. Choose your subscription option, pay for it, and check your email for installation instructions. Your welcome email also has instructions to set up Eyezy on the device you want to monitor. Once installed, you'll be able to pop in to your Control Panel and see everything that they're saying on Facebook Messenger.
How do I track secret conversations on Facebook?
Secret conversations in Messenger can be problematic. For one, they're encrypted, making it difficult for others to intercept and see your convos. And with secret conversations, these types of convos automatically disappear, making it even more difficult to keep tabs on what they're saying. But the good news is that with Eyezy, you can see all their Facebook Messenger conversation, even ones that happened secretly.
Can I track their location while they use Facebook Messenger?
If you're searching for a Facebook tracking app, there's a good chance you want to do way more than just read their Facebook Messenger conversation. You probably also want to track their location on a map. While this might seem like the stuff of legends, the truth is you really can find out where they are at any given time. With a Messenger tracker like Eyezy, you can log in to the app and see their location at any given time. And it goes even further. If you're worried that they're going somewhere they shouldn't, you can set up geofencing and get alerted if they enter or exit a safe or danger zone.
Will a Facebook tracking app work if they're not using Facebook at the moment?
Yes, as long as you purchase a full-featured Facebook monitoring app like Eyezy. When you do, they don't have to be logged in to Facebook for you to know their location. Nor does Facebook Messenger have to be running in the background. As long as their phone is powered on, you can find out where they are at any given time.
How much does it cost to monitor Facebook Messenger?
That depends on your needs and how many months of FB tracker service you want. If you opt for a product like Eyezy, you can purchase a Facebook monitoring subscription for the number of months of your choosing. That means you don't have to commit to using the app for a long period of time if you just want to test the waters and see if it's right for you.
What other chats can I see with a FB tracker?
Now that you know how to track Facebook Messenger, you probably want to know if you can view their other social media conversations, too. The good news is you totally can and it's easy. That's because Eyezy doesn't just let you see their Facebook Messenger conversations. You can also see the chats they're having on Instagram, WhatsApp, and so many other social media services.
Should I choose a free Facebook tracking app?
We don't recommend them. And that's not because we happen to sell a Facebook tracker product. The reason is simple. If you want to view someone's Facebook messenger, you need to make sure that the app you're choosing is reputable. And the truth is that free Messenger tracker apps can be extremely problematic. You should always be careful when downloading anything from the internet and installing it on your phone. But that's especially true when you're choosing a monitoring app. But using a free solution, you could end up with something that steals your personal information, or the information on the device you're monitoring. That includes emails, passwords, banking info, and anything else.
See everything, everywhere:
Just log in from any browser. Easy as that.
Get started