Get the information you need to
stop something bad from happening.
Geofencing Alerts
No need to follow them around. Eyezy does it for you, letting you know if they enter a pre-set danger zone.
Keylogger for Android
With a powerful keylogger, you'll know everything they type, so you can keep them out of trouble.
Keylogger for iPhone
Take a look at what they are typing on their iPhone - in social media chats, browser, or emails. Make sure their communication online is safe.
Stay in the know

without staying on top of them.

You're busy. You don't have time to monitor their phone 24/7 and make sure they're staying safe. That's why we created Magic Alerts. If something controversial is happening on their phone, you'll know about it.

That's because Eyezy keeps a watchful eye on their conversations, searches, and more to alert you if any of the pre-set keywords you've entered in your Control Panel show up.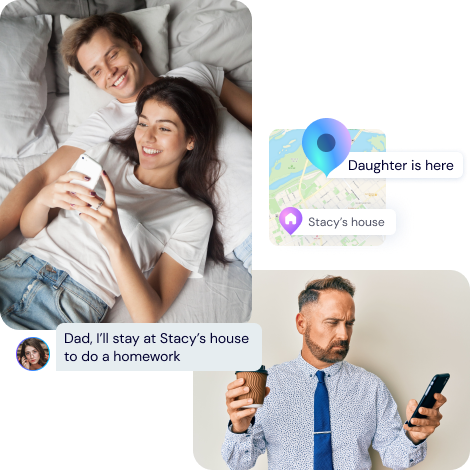 And when you set forbidden zones, Magic Alerts let you know if they're somewhere they shouldn't be.
Try now
There's no better way to gain peace of mind. Period.
Eyezy's Magic Alerts tool makes monitoring so easy. But it's just one small part of what makes our parental control app so unique. Baked right into Eyezy is a full suite of innovative tools, including Keystroke Capture to show you everything they type and tap, Social Spotlight to let you see what they're saying on social media, Plans Breaker to help you understand their social life, and so much more.
See everything, everywhere:
Just log in from any browser. Easy as that.
Get started