Monitoring App for iPhone
Is Eyezy right for you?
If you nod your head when reading any of these statements, it's time to get the best iPhone monitoring solution.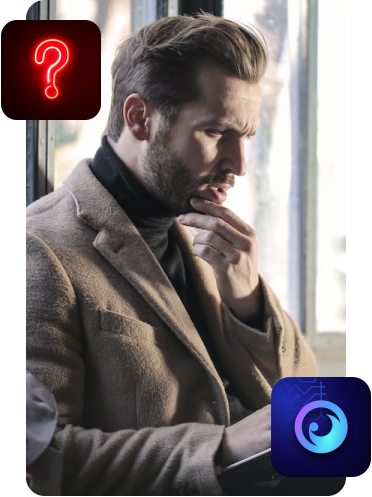 Why Eyezy?
Our number one goal is to make our customers worry less by lifting the curtains on what's really happening. Here's why millions of people continue to trust Eyezy.
TRY EYEZY TODAY
Eyezy Features You'll Love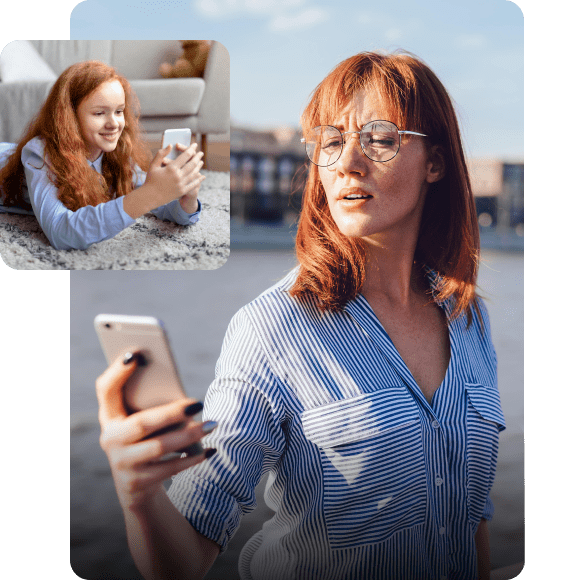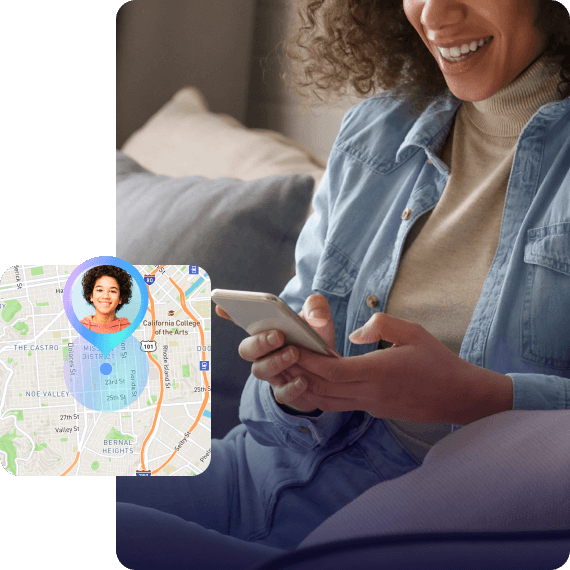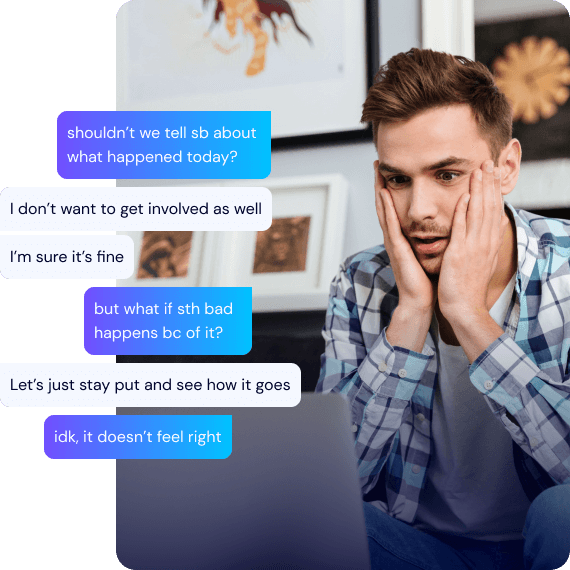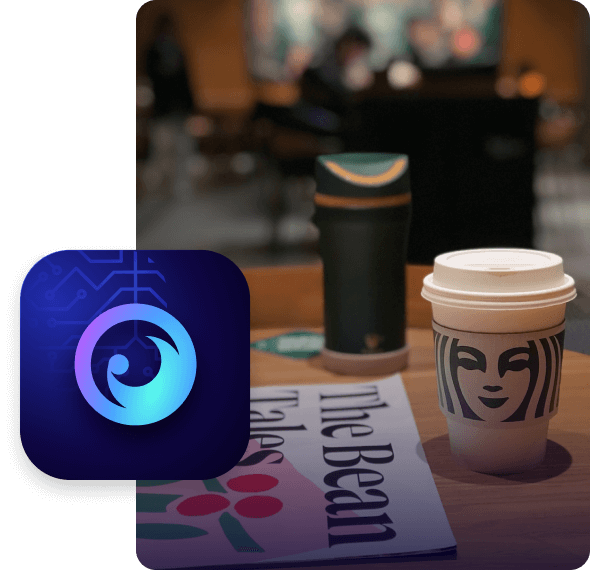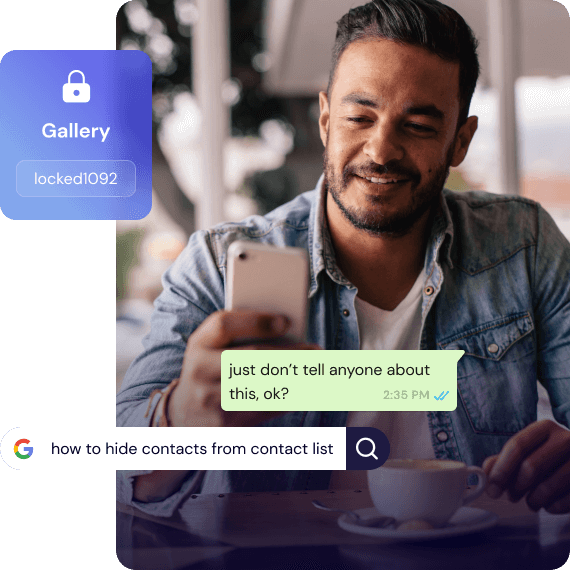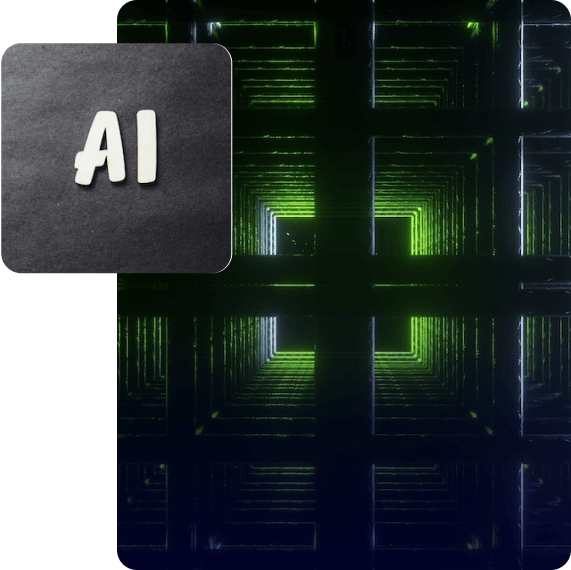 A world of safety.
All at your fingertips.
Eyezy is packed with everything you need to find out what's going on in their world, wherever and whenever it's happening.
faq
How does Eyezy work on iPhone?
Eyezy offers multiple methods, depending on whether their iPhone is jailbroken or not, and whether you know their iCloud credentials. Our goal is to make sure you can see their iPhone and keep them safe, regardless of what kind of iPhone they have.
Can Eyezy be installed on iPhone without jailbreak?
Yes, whether their iPhone is jailbroken or fresh out of the box from the store, the Eyezy monitoring app for iPhone is designed to work the way you'd expect. It's important to know whether their iPhone is jailbroken or not before proceeding with the installation process, so make sure you do a bit of research before hitting the Buy Now button.
How long does it take to see what's on their phone?
The first sync takes a bit of time, but once it's done, you'll see everything pretty much instantly. And whenever you head to your Control Panel, you'll have access to the latest synced content. That means there's no button to press or hours to wait before you can see what's on their phone. Eyezy takes care of everything in the back end.
Will they know I'm using Eyezy to monitor them?
They won't if you choose an iPhone monitoring solution that works in hidden mode. Eyezy is one of them. Once installed on their phone, it's virtually undetectable. No icon on their home screen. No surprises in Settings to draw their attention. And when you log in to your Eyezy Control Panel, they won't receive a notification that you're reading their messages. Impressive, right?
How do I monitor an iPhone remotely?
Knowing how to monitor iPhone is way easier than you think. Just install Eyezy on their phone and then log in to your Eyezy account from anywhere. In fact, you don't need a special monitoring app for iPhone to monitor their iPhone remotely. Just log in through your web browser to access your Control Panel. From there, you'll see the contents of their phone. It's that easy.
Can I get Eyezy on the App Store?
Eyezy is available for iPhone on the App Store. However, it should be noted that the version you see there doesn't offer all the same functionality as what you'll find when you buy it directly on the Eyezy website. The feature set is slightly limited. However, you can still track their location and get location alerts. And the monitoring app for iPhone comes with a Panic Button, so they can alert you if they're in trouble rather quickly.
Are there any free iPhone monitoring apps?
There are. But if you're going to the trouble of monitoring iPhone, you want to be safe. If you choose a free solution, you could be putting everything on their iPhone at risk. Free apps are usually designed by people who don't care about privacy. In fact, some free apps do nothing more than trick you into handing over personal information (like emails or passwords to your favorite sites) or your credit card information. Stay away from free iPhone monitoring offers.
Can I really read their iMessages?
Yes. With an iPhone monitoring app like Eyezy, you can read their blue bubble messages. We're talking about the messages sent between two iOS devices. Whether it's sent from iPhone to iPhone or between an iPhone and an iPad, you'll be able to see it when you use Eyezy to monitoring iPhone remotely.
Can I read texts sent between iPhone and other phones?
Definitely. If you're concerned about being able to read green bubble messages (the ones sent between iPhone and Android), don't worry. Eyezy has you covered. The iPhone monitoring software has full support for messages sent between their iPhone and an Android. Even if the other person is texting from an old Blackberry or a flip phone, you'll have no issues reading their text messages with Eyezy.
Is it legal to use iPhone monitoring software?
You can totally use iPhone monitoring apps like Eyezy, as long as you're using it to keep tabs on your own child's iPhone — and assuming they are under 18 and you're their legal guardian. That means if you want to use an iPhone on another adult, you can't — unless you receive their explicit consent first. And not just verbal consent. It's best to have something in writing to cover your bases. Of course, it's always a good idea to check your local laws before using a monitoring app for iPhone.
See everything, easily.
Seeing what's on their iPhone is a piece of cake with Eyezy. Just sign in to your Eyezy account and you'll be greeted by your personal Control Panel.
On the left nav bar, you'll see all Eyezy tools available for the iPhone you're monitoring. Social Spotlight for their private texts, emails, and chats. Pinpoint for their location. Plans Breaker for their calendar. Files Finder for their photos, videos, and installed apps. Web Magnifier for their browser history. And so much more.
Simply click the content you want to view and watch everything show up on the main screen to the right of the nav bar. It really is that easy.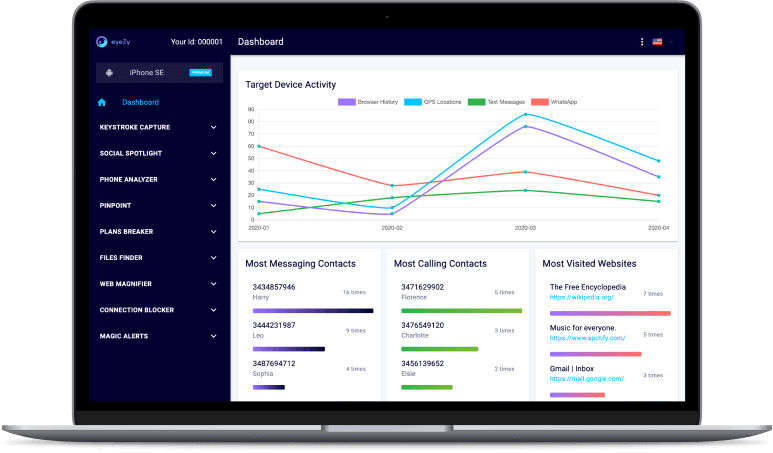 TRY EYEZY NOW