Discover Social Spotlight
You can't be a part of their conversations. But you can still

read everything.
Try now
See it in action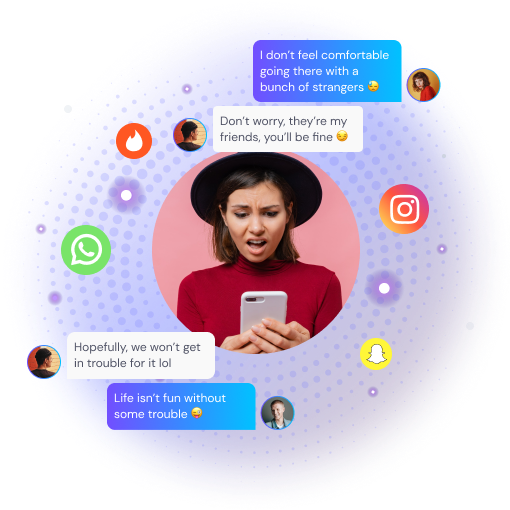 They're chatting
everywhere.


So we made Social Spotlight work with pretty much everything.
Screen Recorder
Get a clear picture of everything they're doing. Literally. With Eyezy, you can review screenshots of their activity.
WhatsApp Monitoring
Texting people all over the world is easy with WhatsApp. And finding out what they're saying is even easier with Eyezy.
Telegram Monitoring
It's no secret that Telegram is really secure. But Eyezy makes it really easy to see their conversations. Texts. Photos. Everything.
Snapchat Monitoring
Stop worrying about what they're snapping to their friends. Just log in to Eyezy and you'll be able to see everything.
Instagram Monitoring
Sharing photos is fun, but things get complicated when kids share things they shouldn't. Now you can see everything.
Facebook Messenger Monitoring
Wondering who they're chatting with on Facebook? Eyezy gives you the inside scoop and shows you what they're saying.
KiK Monitoring
Worried about controversial conversations on Kik? With Eyezy, you can see their chats, helping you rest easy.
Finally, a simple way to read their chats.
It's not so easy to know who they're chatting with if you don't know where they're chatting.
That's why we created the Social Spotlight. It shines a light on everywhere they chat, letting you see exactly who they're talking to and what they're saying.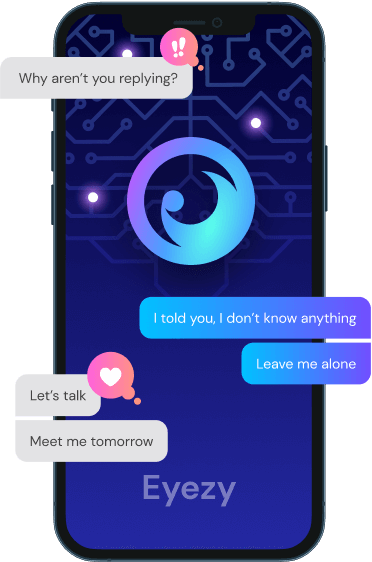 We started with support for all their favorite social media chat apps. WhatsApp. KiK. Telegram. Viber. Tinder. LINE. Snapchat. Hangouts. Skype. Instagram. And Facebook Messenger. And we continued by extending it beyond social, right into the heart of their phone, targeting the built-in apps they use to text, email, and make calls.
So wherever they're chatting, you'll know about it. And you'll know exactly what they're saying. It's a great way to make sure they're not chatting with people they shouldn't be chatting with, or saying things they shouldn't be saying.
A smart tool designed with their safety in mind. That's the power of Social Spotlight.
Try now
There's no better way to read their chats. Period.
Eyezy's Social Spotlight is super-advanced and designed to keep them safe while putting your mind at ease. But it's just one small piece of the larger monitoring puzzle. Baked right into Eyezy is a full suite of powerful tools, including Keystroke Capture to show you every keystroke typed, Files Finder to let you see the photos and videos they've saved, Magic Alerts to let you know where they are as soon as they get there, and so much more.
See everything, everywhere:
Just log in from any browser. Easy as that.
Get started