Put a stop

to what you don't want them to see.
Website Blocker
Website Blocker
Don't want them to visit a specific site, like adult, gambling, or violent URLs? Eyezy can block anything for you.
Browser History Tracking
Browser History Tracking
With Eyezy, you can log in and find out which sites they've visited. And filter out controversial ones.
Screen Recorder
Screen Recorder
Get a clear picture of everything they're doing. Literally. With Eyezy, you can review screenshots of their activity.
It's the Internet they know and love.

But designed by you.
The Internet can feel a little bit like the Wild West. Adult websites accessible to anyone. The power to connect to the Wi-Fi pretty much anywhere. And the ability to use apps that are way too controversial.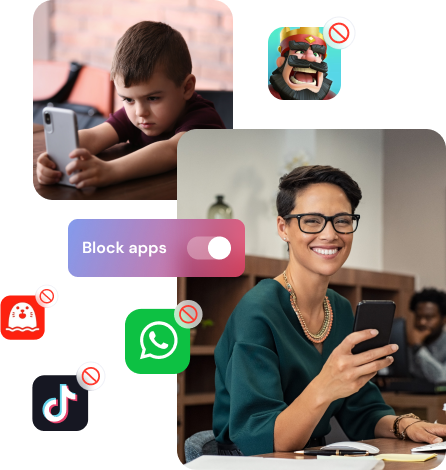 Thankfully, Eyezy lets you take back control and limit what they can access. Just make your selections in Eyezy and block what you want. Then unblock them when you're ready. Easy as that.
Try now
There's no better way to block apps and sites. Period.
Eyezy's Connection Blocker opens up a world of possibilities. But it's just one small part of what makes our parental control app so special. Baked right into Eyezy is a full suite of innovative tools, including Keystroke Capture to show you everything they type and tap, Social Spotlight to let you see what they're saying on social media, Magic Alerts to let you know where they are as soon as they get there, and so much more.
See everything, everywhere:
Just log in from any browser. Easy as that.
Get started