See all

their Snapchat conversations

One app gives you access to everything. It really is that powerful.
try eyezy
A world of safety.
All at your fingertips.
Eyezy is packed with everything you need to find out what's going on in their world, wherever and whenever it's happening.
3 easy steps to get started
Pick your membership

We've got plans for every need. Just create your account and choose the plan that's right for your family.

Install Eyezy

Our Friendly Installer will show you everything you need to do to get started. We made it easy for you. And in case you need some help, our 24/7 support is always there for you!

Dig out the info

Log in to your Eyezy Dashboard and discover the truth about those you care about the most. Dispel any doubts in your family relationships and make wise data driven decisions.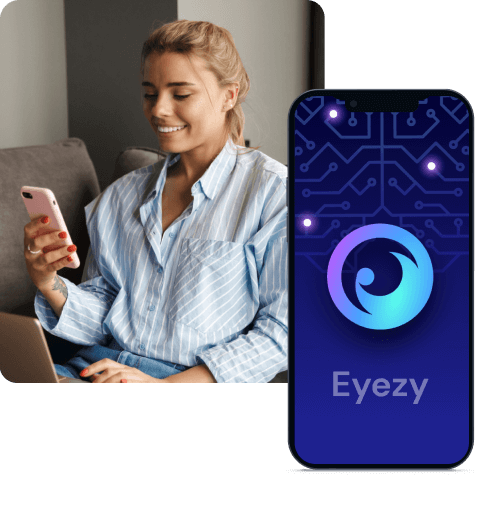 get started now
faq
How can parents monitor Snapchat?
We get it. Snapchat makes you nervous. As parents, we totally understand. The chat app was designed to help users stay private by deleting messages after they've been seen. That's great for users but not so great for parents who want to make sure their kids aren't communicating with creepy strangers or being bullied by their peers. That's why the Snapchat tracker app is so loved by parents. It puts them back in control by giving them the power to review their kids' Snapchat conversations.
How do I see my child's Snapchat messages?
If you want to know how to monitor Snapchat, you've come to the right place. It's so easy. First, you'll need to install a Snapchat monitoring app on their phone. Do that by choosing a subscription, paying for the service, and then checking your email. There, you'll find installation instructions and login details for your Control Panel. Once everything is set up, you can pop in at your leisure and review their chats.
Will a Snapchat tracker app show me their written messages?
Absolutely. When you buy an app to monitor Snapchat, it's designed to show you written messages. That includes sent messages and any messages they've received. So if it's written in a Snapchat conversation, you'll have access to it.
What about pictures?
Snapchat got its start as an image-sharing platform, so the best Snapchat monitoring apps let you see the pictures or Snaps they've sent and received. But not every Snapchat tracker app is the same, so always make sure the one you're choosing lets you see pictures.
What about disappearing messages?
We know what you're thinking. If Snapchat is designed to delete messages after they're sent, what good is a Snapchat monitoring app? That's the beauty of Eyezy. When you install it on your kid's phone, you'll have access to their chats. And because Eyezy includes a screen recorder, you'll be able to see their Snapchats, even if you happened to miss a deleted message.
Is Snapchat tracker undetectable?
It is if you opt for a hidden Snapchat tracker app like Eyezy. Apps that work in hidden mode hide the app on the target device. That means if you install Snapchat tracking technology on your child's phone, they won't know you have access to their messages. But remember, not all monitoring apps are created equal, so just because an app claims to let you see their Snapchat messages, it doesn't automatically mean it's undetectable.
Can a Snapchat tracker save my kid from bullying?
We can't promise you that it will save them. But we can tell you that when you monitor Snapchat using an app, you'll have access to their conversations, including texts and pics. That means you can pop in and review their conversations, including those that might involve bullying. Remember, kids choose Snapchat to bully others because they think they can't get caught. After all, if a message disappears, how can anyone prove that you've been bullying someone? But with an app to monitor Snapchat in your corner, you'll have proof.
Does a Snapchat tracker stop sexual predators?
It's easy to contact strangers on Snapchat. And that means a random person could end up sending your child inappropriate messages. If you have Snapchat monitoring in your corner, you'll be able to identify incidents of harassment and conversations that are sexual or inappropriate in nature. And then you can take action.
What other chat apps can a Snapchat monitoring app see?
A lot. We know kids don't just use Snapchat to communicate with friends, new and old. They use other social media apps, like Facebook Messenger, Kik, Line, WhatsApp, and even Tinder. That's why when you get a full-featured app to monitor Snapchat, you'll have access to their conversations on the world's most popular social media platforms. And if they use plain old text to communicate, you'll see that too.
What else can a Snapchat tracking app do?
We know you're interested in way more than how to track Snapchat conversations. You want to keep them safe, whatever they're doing on their phone. An app like Eyezy has you covered. You can see their calendar, check out the pics and videos stored on their device, find their location on a map, get alerted if they're going somewhere you don't approve of, and so much more. Basically, if they're doing it on their phone, you'll know about it with the right Snapchat tracking solution.
This sounds so cool. But is it legal?
We have good news. If you're using a Snapchat tracker to monitor your own kids who are under 18, you are well within your legal rights to use a Snapchat monitoring app to see what they're up to. And you can do so without informing them in advance. However, if you want to monitor someone else, like a stranger or someone over the age of 18, you can't unless you have their explicit permission to do so and they're completely aware. But before taking our advice, always check with your local laws. They have the final word on whether or not using a Snapchat tracking tool is legal.
Should I try a free Snapchat tracker?
We don't recommend it. Free Snapchat tracker tools are usually nothing more than spyware designed to steal your personal information, like your credit card number. And if they aren't trying to steal your money, they're likely interested in stealing your data, which can be just as dangerous.
See everything, everywhere:
Just log in from any browser. Easy as that.
Get started