Track their location

and activity

With a cell phone tracker, you'll know what they're up to at all times.
try eyezy
A world of safety.
All at your fingertips.
Eyezy is packed with everything you need to find out what's going on in their world, wherever and whenever it's happening.
3 easy steps to get started
Pick your membership

We've got plans for every need. Just create your account and choose the plan that's right for your family.

Install Eyezy

Our Friendly Installer will show you everything you need to do to get started. We made it easy for you. And in case you need some help, our 24/7 support is always there for you!

Dig out the info

Log in to your Eyezy Dashboard and discover the truth about those you care about the most. Dispel any doubts in your family relationships and make wise data driven decisions.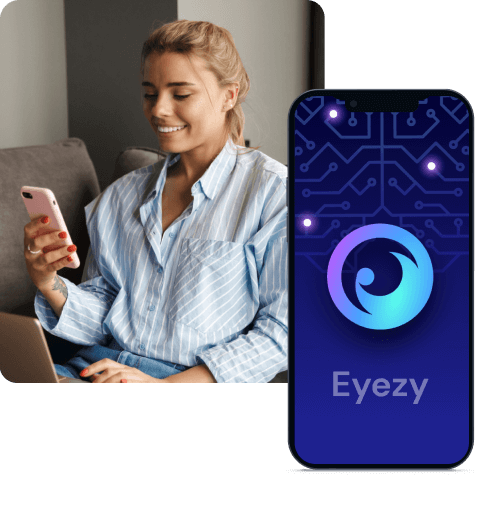 get started now
faq
What is a cell phone tracker?
It's exactly what it sounds like. With mobile phone tracking installed on their phone, you can track their location on a map. You can also track their other activity, like who they're chatting with on social media, via text, and even over the phone. But remember, not all remote cell phone tracking solutions are created equal. You'll definitely want to get one that goes being just letting track a cell phone, so do your research and choose one that really fits the bill.
How do I track a cell phone location without them knowing?
All you need to do is install a cell phone tracker on their phone, whether it's Android or iOS. Once it's set up, you can log in to your phone tracker Control Panel and take a look at their location. And to make things even more useful, you'll see their location on a map, so you can visually see where they are at any given time.
Can I see their location history too?
Yes. We know that if you want to track a cell phone, you're interested in more than just where they are right now. Chance are you also want to know where they've been. That's why a GPS phone tracker comes in handy. It not only shows you their current location on a map, but the best phone tracking app will also show you a detailed history of where they've been.
Why is it important to see their location history?
Using a remote cell phone tracking app to see the locations they frequent can help you paint a clear picture of where they frequently travel and who they regularly visit. For example, let's say you suspect your daughter is getting together with a boy you don't approve of. She denies it, but you have your sneaking suspicions. With a phone tracker app, you can pop into your Control Panel and see a detailed history of locations they regularly visit, helping you understand where your daughter is going and what she's doing.
Can I track the location of any phone number?
Yes. No matter what cell phone number your child has, you can use a mobile tracker like Eyezy to find out where they are in the world. It doesn't matter if their number is local or international. If they're connected to Wi-Fi or data, you'll get real-time location information pushed right to your phone tracking app dashboard.
Can you track someone by phone number if they're out of the country?
Absolutely. And that's what makes a GPS phone tracker so good. If your child happens to be out of the country, perhaps on a school trip, you can use your mobile phone tracking service to find out where they are. That's extra peace of mind to keep them safe while they're exploring the real world and having fun safely.
Is it possible to track someone by cell phone number?
If you're asking if you can use a phone tracker to track a random phone number, the answer is no. For mobile phone tracking to work, you need to install an app on their device. Just plugging in a random number won't automatically fill you in on their location. However, there are some services that let you track their location without installing anything. With these types of GPS phone tracker solutions, you simply send a text to the number asking them to tap a link to confirm their location. Once they tap it, you'll know exactly where they are.
What is the best phone tracking app?
We're biased, but we're going to say Eyezy. Not only does it let you track someone by phone number as long as the app is installed on their phone, but it also lets you do a bunch of other things, like see their social media conversations, review their text messages, and so much more.
Can I see their location on a map?
Yes. With the best phone tracking app installed, you can see exactly where they are on a map whenever you feel like it. And the map updates in real-time, so you'll always have the confidence to know that they are where they say there. And if they're not, you can take action and do something about it.
Can I get alerted if they go somewhere specific?
It can if you choose Eyezy. The cell phone tracker not only lets you see their current location on a map, but it also alerts you if they arrive or leave a designated area. For example, let's say you gave your son permission to ride around the neighborhood on his bike. But you banned him from going to a specific convenience store to buy candy. Just mark the area of the convenience store in your Control Panel. If your son enters that zone, you'll receive a notification to let you know.
Should I use a free phone tracking app?
We recommend you steer clear of any free app to track phone without them knowing. These apps are usually nothing more than malware, designed to steal your personal information or the information on the device that you want to track. If you really want the best phone tracking app, you'll need to pay for it. But the good news is that the top apps like Eyezy do even more than just let you track their phone secretly.
See everything, everywhere:
Just log in from any browser. Easy as that.
Get started