Keep tabs

on them

Find out if they're disobeying your rules and violating the boundaries you've set.
try eyezy
A world of safety.
All at your fingertips.
Eyezy is packed with everything you need to find out what's going on in their world, wherever and whenever it's happening.
3 easy steps to get started
Pick your membership

We've got plans for every need. Just create your account and choose the plan that's right for your family.

Install Eyezy

Our Friendly Installer will show you everything you need to do to get started. We made it easy for you. And in case you need some help, our 24/7 support is always there for you!

Dig out the info

Log in to your Eyezy Dashboard and discover the truth about those you care about the most. Dispel any doubts in your family relationships and make wise data driven decisions.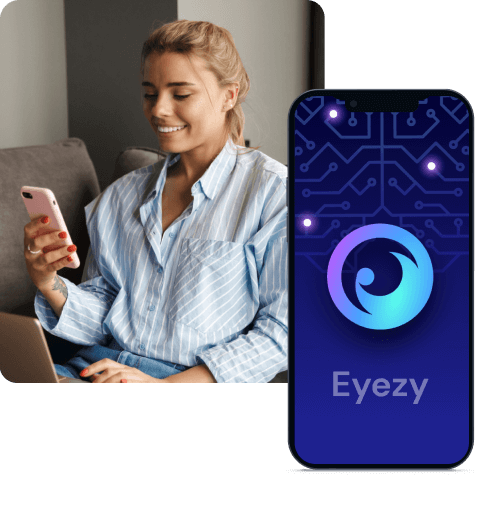 get started now
faq
What is geofencing?
Great question. Geofencing is technology that allows someone to find out a person's exact location without even asking. With the best mobile geofencing apps, you can get alerted if someone exits or enters a specific zone. Need a real world example of geofencing? Here's a good one. Have you ever walked into your local grocery store and had the store's loyalty card pop up on your phone, welcoming you to the store? That's geofencing. The app knew that you were in close proximity to the store, so it provided you with the card you needed to shop and save.
What else is geofencing good for?
Imagine your kid tells you she's going to a friend's house to study. You also know that there's a party going on tonight, but you don't want your kid going because the people who are planning to attend are bad influences. You can forbid your daughter from going out, but that might just sour your relationship. That's where geofencing software comes into play. Once you install a geofencing app, you can get alerted if your daughter enters or exits a specific zone. So, if her friend happens to live east of Main Street and you know the party is happening west of Main Street, you can tell your phone to alert you if she crosses Main Street. And when she does, you'll know she's on her way to that party.
How does geofencing work?
GPS geofencing leverages your phone's built-in GPS. Most modern smartphones have GPS built in. That's how navigation apps work—they use GPS to figure out your coordinates and guide you to where you want to be. Mobile geofencing technology works by leveraging GPS to keep tabs on their location and alert you if they're seen exiting or entering a specific zone.
How do I install a geofencing app?
If you're looking for geofencing apps Android users love, look no further than Eyezy. When you're ready, just choose your subscription, pay for it, and follow the instructions sent to your email to get up and running. If you're all about Apple and prefer geofencing apps iPhone users flock to, Eyezy is a solid choice, too.
What's the difference between location tracking and geofencing?
Location tracking and geofencing are different. With location tracking, you actively monitor someone's location pop checking out where they are on a map. You can also see their history. Geofencing involves creating an invisible fence based on GPS coordinates and using their phone to alert you when they exit or enter a certain area.
What else can a geofencing app do?
If the app you choose has the right kind of geofence technology baked right in, you can do way more than you think. Take Eyezy, for example. It lets you see their social media conversations, review their text messages, check out the media stored on their phone, and so much more. And it's all included with your subscription, so you don't have to pay extra for each feature you want.
Isn't geofencing built into my phone?
It might be. But that only means that other companies can use your location to provide you with suggestions and services. And just because geofencing is built into your kid's phone, it doesn't mean you can find out where they are automatically. For that to happen, you need a mobile geo fencing app that you can install on their phone.
Will they know I'm using a geofence app?
If you get one like Eyezy, they won't. That's because the GPS geofencing app works in hidden mode. Once installed, it's virtually undetectable by the person you're monitoring. In a nutshell, they'll have no idea that you're using a mobile geofencing app to track their whereabouts.
Is it legal to use geofencing technology?
When you use a geofence monitoring app like Eyezy, you're well within the law, as long as you're using it to monitor your own child, who is under the age of 18. Remember, using geofence technology to track someone random without them knowing is a violation of the law, so always proceed with caution and check the laws in your jurisdiction to make sure you're in compliance.
See everything, everywhere:
Just log in from any browser. Easy as that.
Get started