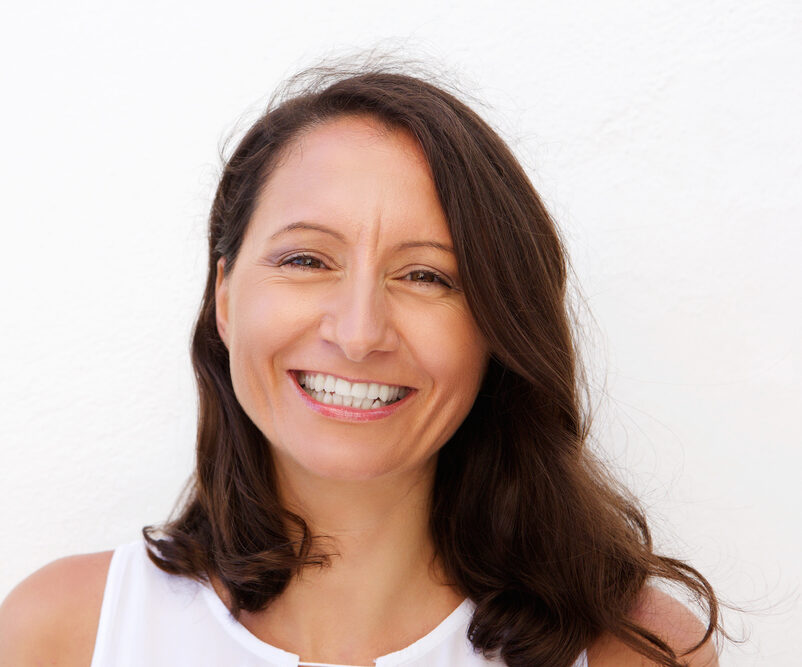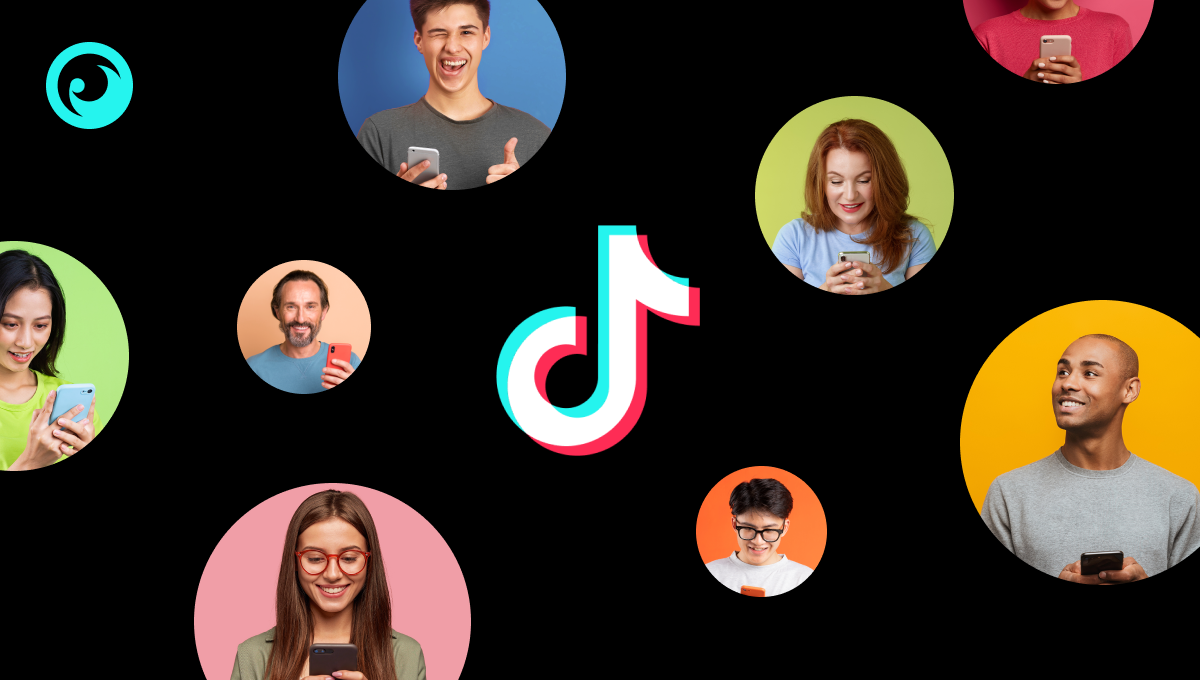 Do you use TikTok? If you don't, you probably will — eventually. It's only a matter of time before you succumb to the wildly popular social media app. Try and resist it all you want. Once you try TikTok, you'll find yourself scrolling through random videos to pass the time more and more frequently throughout the day.
How do we know? Well, we've been there. But also, we've conducted a little experiment of our own to find out how different generations view TikTok and how they interact with it. And, eventually, how long it would take for TikTok to become a part of their daily routine.
But, first things first. Let's talk about TikTok's role in today's world in general.
Table Of Contents
What Is TikTok?
It's an app to share user-generated videos — everything from pranks to jokes to social commentary on current events. If you're old enough to remember Vine, it's kind of like that, without the 6-second limitation. And it's far more engaging than Vine was.
TikTok is the world's most downloaded app. To put it into context, here are some numbers:
TikTok was downloaded over 656 million times in 2021
Since its launch, the app has been downloaded over 3 billion times
It's the 6th most-used social media platform (Facebook holds the top spot, followed by YouTube, WhatsApp, Instagram, and WeChat).
Even though Instagram is used more, TikTok is more popular among Generation Z users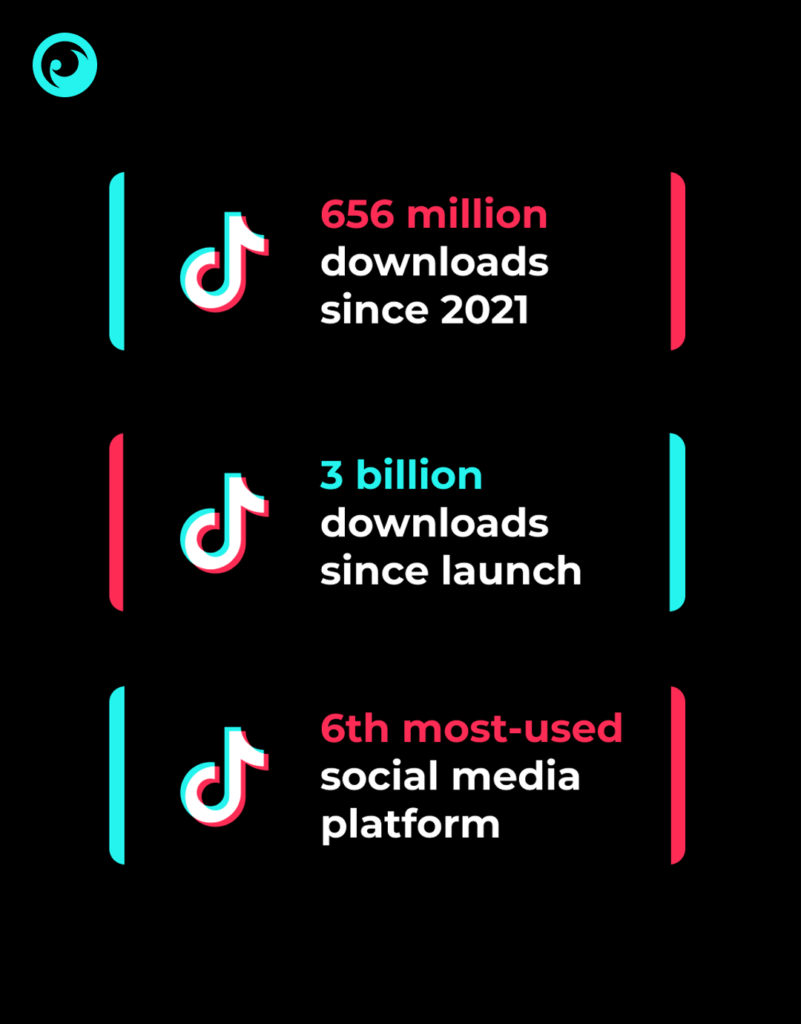 It's the World's Most Engaging App
TikTok has an average user session of 10.85 minutes. That might not seem like a lot of minutes, but that doesn't mean people are using TikTok for around 11 minutes a day. It means that when people jump onto TikTok, they use it for about 11 minutes before switching to a different app.
The next most-popular app in this regard? Pinterest at just over 5 minutes. Instagram was way down there at 2.95 minutes. The overall daily engagement rate is up there too, with an average of 38 minutes per day spent on TikTok. Twitter and Facebook are next on the list, at 35 minutes and 31 minutes respectively.
TikTok's Users Skew Young
About 25% of TikTok's audience is made up of females aged 18 to 24, with another 17.9% of the user base falling into that age group, but male. Together, they make up over 40% of TikTok's user base.
Overall, about 57% of TikTok's user base is female. But that number varies by country. For example, in the United States, over 62% are female.
More and More People Are Dipping Their Toes in the Water
While TikTok does skew young, the social media platform is starting to span generations, with more and more people of all ages trying the app.
How Different Generations Experience TikTok
We conducted an experiment with hundreds of TikTok users, ranging in age from mid-teens to mid-forties. We found several common trends among each age group:
Teenagers
Noticed that content generally featured memes
Impressed by recommendations
Enjoyed how it helps you stay on top of trends
Would consider buying something featured on TikTok
Twenties
Initially against TikTok, but quickly discovered insightful content
The algorithm works well at figuring out what you like
Short and snappy content makes it easy to consume
Doesn't require a lot of concentration
Would consider buying something featured on TikTok
Thirties
Great use of music and voiceovers
Found content to be helpful for relaxation
Would not consider buying something featured on TikTok
Forties
Impressed how it shows you content you're already interested in
Not a fan of the ads
Would not consider buying something featured on TikTok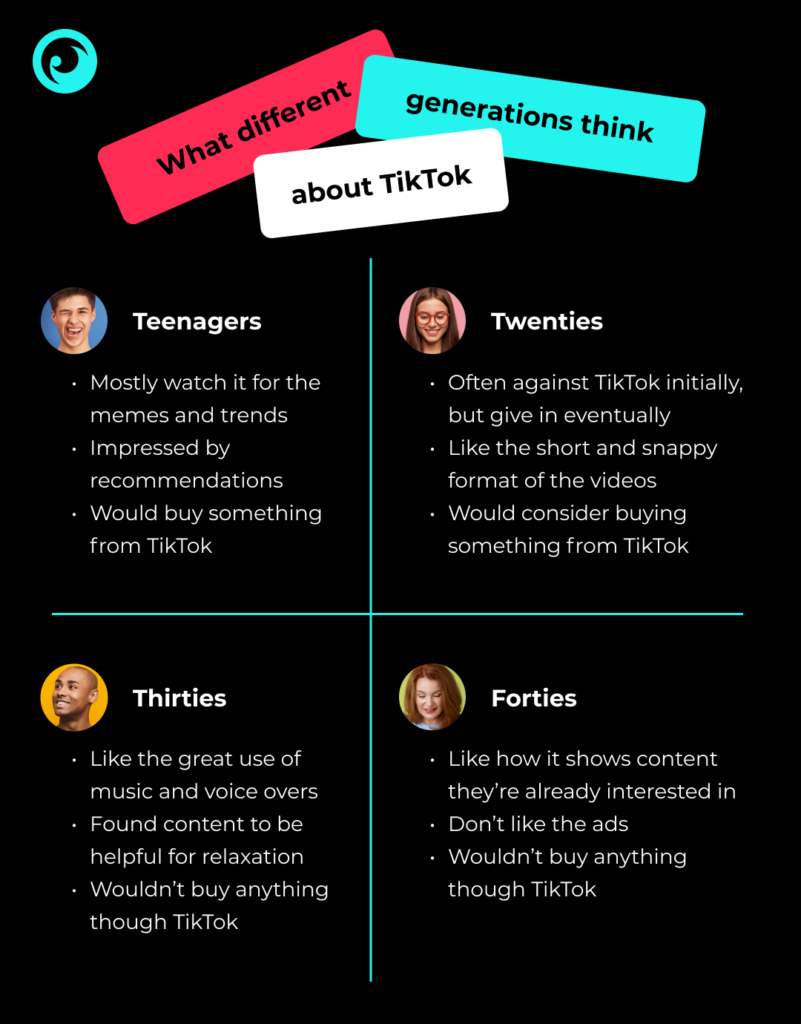 Key Age Observations
Those in their thirties and forties found that their use of TikTok increased as the week progressed, suggesting that the app's algorithms are working to cater to older users and make sure they continue to enjoy TikTok. Teenagers and users in their twenties appeared to be less engaged as the week progressed.
Everyone Wants to Be TikTok — Including Mark Zuckerberg
When you can't beat 'em, buy 'em. And when you can't buy 'em, copy 'em. That seems to be the approach Meta has taken. The company formerly known as Facebook has turned its Instagram product into a TikTok-like experience, mimicking TikTok's scrolling behavior.
The similarities are so strong that you could open TikTok on someone's phone, blindfold them, switch to Instagram, remove the blindfold, and they'll have no idea that you've switched apps.
Meta knows that Facebook is becoming a relic of the past. Younger users are flocking to TikTok, and Instagram needs to evolve if they want to maintain its user base.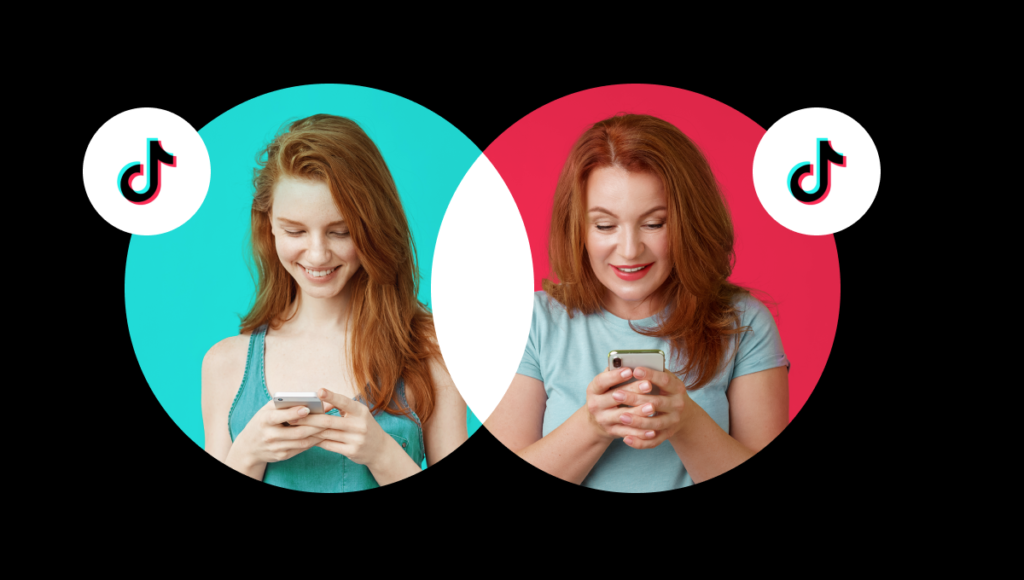 So, what does this all mean? With more and more apps clamoring for users' attention—and with more and more apps mimicking what TikTok does—people are finding themselves exposed to more and more content.
That includes controversial stuff that kids shouldn't be looking at. That's why it's important to consider using a monitoring app. It can help you ensure that your kids are looking at content that you approve of. And if they aren't, you can find out.
Problems & Dangers of TikTok
Did you know you can watch TikTok without an account? It's true. Just download the app and start scrolling. You'll see all kinds of content, and the app will begin to learn what you're into, even if you don't have an account. While you can't comment, you can easily share content by copying a link. And others can share content with you.
Because TikTok doesn't require an account, there's no age verification process, making the app even more problematic. As with many other social media apps, it didn't take a lot of time for adult content to make its way to TikTok as well. Yea, TikTok porn is a thing.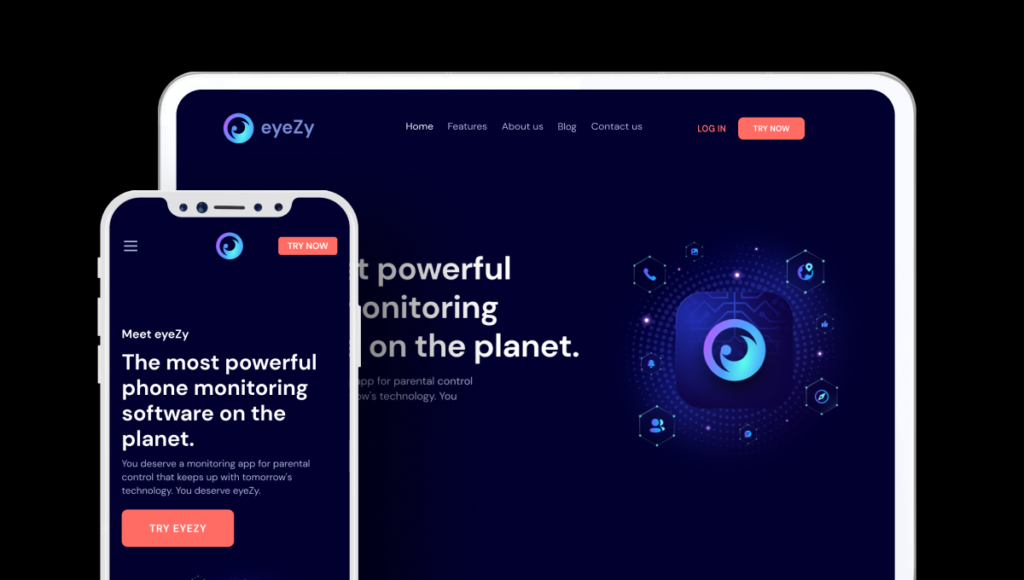 That's why more and more parents are considering TikTok monitoring apps like Eyezy, which lets you see what they've been up to on their phones. Once installed on their phone, you can see if they're using the app. And you can see if they've been sharing videos on other social media platforms.
For example, if they copy a TikTok link and share it on Snapchat, WhatsApp, or Facebook Messenger, you'll know. That's because Eyezy lets you read social media conversations. You can also use the built-in app blocker to completely restrict access to TikTok on their device if push comes to shove.
Where Do You Fit In?
Are you an avid TikTok user? Do you have an account, or are you just a lurker? Or have you yet to try it? Leave a comment and let us know. We'd love to include you in the conversation.